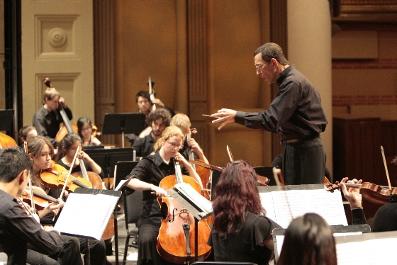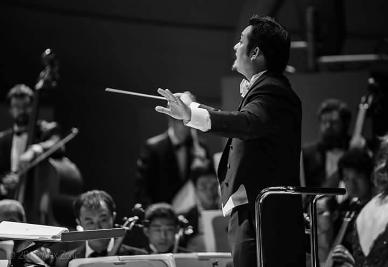 About Philharmonia
UCLA Philharmonia
is the flagship orchestra of the UCLA Herb Alpert School of Music. It rehearses Tuesdays and Thursdays from 3:05 to 5:50 PM and performs two or three different programs each quarter, encompassing a full spectrum of symphonic and operatic repertoire. Please
click here
for a full listing of Philharmonia's programs since 2005.
Founded in 1936, Philharmonia's music directors have included Lukas Foss, Richard Dufallo, Mehli Mehta, Samuel Krachmalnick, Alexander Treger and Jon Robertson. 2022-23 marks the 17th season of Philharmonia's music director and conductor,
Neal Stulberg
.
Philharmonia's programming focuses on both the core symphonic and operatic repertoire, and the best in contemporary and rarely-performed works.
2022-2023 highlights include three performances at Royce Hall -- the 17th annual All-Star Concert in January 2023; a March 2023 choral/orchestral concert featuring Stravinsky's "Le Sacre du Printemps;" and the May 2023 West Coast premiere of Lera Auerbach's Symphony No. 6 "Vessels of Light," a work for solo cello, chorus and orchestra celebrating the courage and heroism of World War II-era Japanese diplomat, Chiune Sugihara. Soloists will include UCLA Professor of Viola Che-Yen Chen performing the monumental 1919 Suite for Viola and Orchestra by Ernest Bloch.
UCLA Philharmonia may be taken for credit and is composed primarily of music majors; qualified non-majors may also audition for violin and other positions as needed. General auditions for UCLA Philharmonia are held at the beginning of Fall quarter.
About Symphony
Founded in 2002, UCLA Symphony is UCLA's campus-wide orchestra, drawing its membership from throughout the university community. It meets Wednesday evenings from 7:30 to 10:00 PM, performs one concert per quarter, and is open to all UCLA undergraduates, graduate/professional school students, faculty, staff, and affiliates.
Please
click here
for a full listing of Symphony's programs since 2005.
Concerts are in Schoenberg Hall; Symphony is led by advanced MM and DMA conducting majors, supervised by the UCLA conducting faculty. UCLA Symphony may be taken for credit.